CBO ERP Limited is an end-to-end Pharmaceutical distribution software India for multi-channel marketing. Our Pharma Distribution Automation Software System provides a fast and foolproof platform to collect, manage, improve sales data from different distributors and retailer located nationwide. With CBO, pharmaceutical companies will be able to efficiently implement important business processes to counter the volatility of the market. Our Pharma Distribution Billing Software will greatly help pharmaceutical companies in India with the distribution of their product so that time and money is not wasted in relocating the product in the event of a mistake.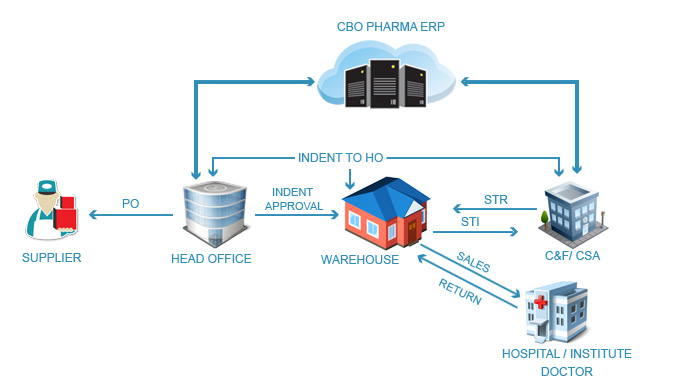 CBO provides plenty of options for transactions like:
• Tax Invoice
• Retail Invoice
• Export Invoice
• Stock Transfer
• Stock Transfer (Issue) to C& F
• and Much more.
Our Pharma Distribution Billing Software will also help to create reports for each aspect of distribution such as:
• Register (Brief/Summary)
• Sales & Purchase Register
• Stock Transfer Issue Register
• Sales Return
• Purchase Return
• Stock Report
• C& F Wise Stock Consolidated
• Stock Ledger A.R NO (Item/Batch Wise)
• Cost Sheet.
• Material receipt generation.